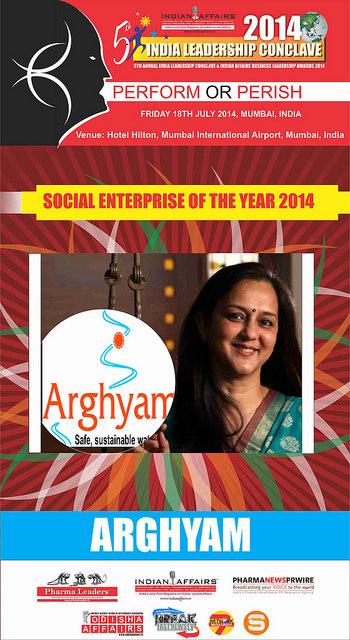 Arghyam grants funds to organisations, which implement and manage groundwater and sanitation projects in India. Arghyam has made grants to recipients in 22 states of India since 2005, the year of its founding. Arghyam, meaning, 'offering' in Sanskrit, is a public charitable foundation that is based in Bengaluru, Karnataka. The foundation's work rests upon a personal endowment from Rohini Nilekani. Arghyam supports sustainable water management towards meeting the basic water needs of all citizens, especially those from vulnerable communities. While the focus is on domestic water, Arghyam's activities are contextualized around the broader issues of the water sector and take into consideration agricultural, industrial and environmental aspects.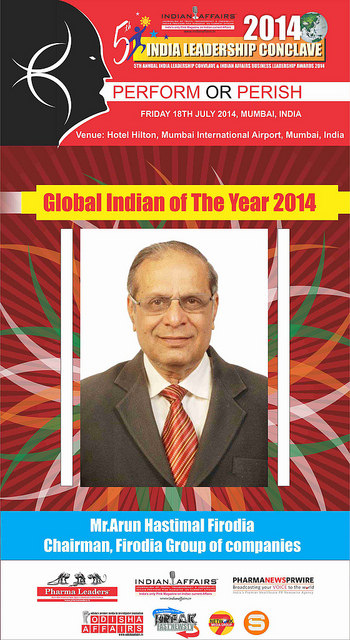 Kinetic Group Chairman Arun Hastimal Firodia, an Alumnus of IIT Bombay (B.Tech. 1965, Electrical Engineering) has been honored by the President of India with the Padma Shri award on Republic Day in the trade and industry category. Arun H Firodia started the flagship company, Kinetic Engineering Ltd. He is at present the chairman of the Kinetic Group. He developed, India's first totally indigenous moped - 'Luna', which became an instant hit with the consumers in the 70's and 80's. He is also credited with introducing one of the most advanced scooter models in India in a joint venture with the Honda motor Company in Japan. He has collaborated with world renowned companies such as Hyundai, Taigene, Sciaky, Daewoo, San Yang etc. for manufacturing of advanced technology products. Mr Firodia can truly be considered the pioneer in putting affordable mobility within the reach of the Indian population and for bringing convenience and refinement to scootering by giving modern day shape, scale and scope to the Indian two-wheeler industry. Arun Hastimal Firodia B.Tech. 1965, Electrical Engineering A highly qualified professional Director and Industrialist, Mr. Firodia previously served as Joint Managing Director of Kinetic Engineering Limited. Mr. Firodia has gained a rich experience of more than 38 years in automobile industry. He founded Kinetic Group (also known as Firodia Group of companies) and serves as its Chairman. Mr. Firodia serves as an Executive Chairman of Kinetic Motor Company Limited. He served as the Chairman of ZF Steering Gear (India) Ltd. until July 14, 2010. He is one of the most respected industrialists in India. He is widely acknowledged as a visionary and a Technocrat. In a career spanning 30 years, he has been a visionary and pioneer who has introduced several new ideas and technologies into the Indian automobile industry. Mr. Firodia's dedicated efforts have also led to starting up and nurturing of many of today's automotive suppliers. He has also been instrumental in setting up the new Auto Cluster in Pune, expected to give a boost to the Indian automotive industry. Apart from a B. Tech in Elec. Engg from IITB he is also been conferred with the Distinguished Alumnus Award for his contributions to Indian Industry, Academia and Society. Mr. Firodia also holds a Masters in electrical engineering (MS) from the Massachusetts Institute of Technology and an MBA (MS in Management) from the Sloan School of Management. He has been conferred MIT (Massachusetts Institute of Technology), Alumnus Award (2007) for distinguished achievement and exceptional service to Country, Society and MIT.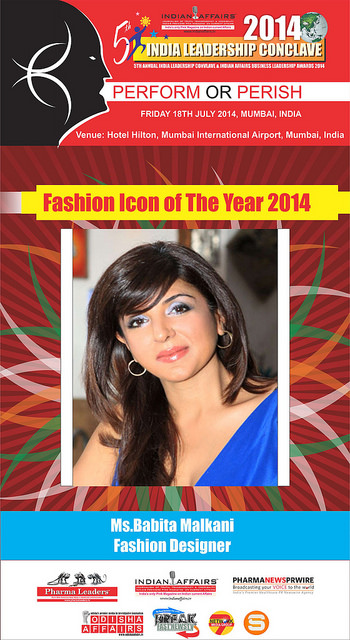 Neo Pop' "I dont design cothes, I design moods" The perfect getaway from the daily grind & monotony is to allow oneself to transcend into an altered state of awareness. The collection is designed to explore the fun & free spirit of resort fashion being showcased at India Resort Fashion Week. Using striking vibrant fluorescent colours in glaring contrast, elaborately ornate geometric shapes, bizarre patterns associated with psychedelic states, the explosion of psychedelic art to the hues of the garments will most definitely create a trance like atmosphere for the audience.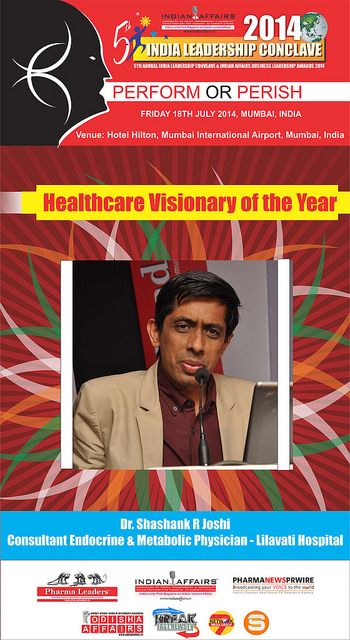 Dr. Shashank R. Joshi is a very reputed Adult & Pediatric Endocrinologist and Diabetologist who has topped in all years of MBBS, MD, and DM with Gold Medals. He is a Fellow of the American College of Endocrinology, American College of Physicians (USA) and the Fellow of the Royal College of Physicians (Glasgow). He has a Diploma of Growth from Sweden. He has more than 400 research publications to his credit. He is the Hon. Emeritus Editor of JAPI (Journal of the Association of Physicians of India) and several other leading medical journals. He is affiliated to several leading hospitals of the city including Lilavati and Bhatia Hospitals. He is a Faculty, Department of Endocrinology, Seth G.S. Medical College and KEM Hospital, Mumbai. He is visiting faculty to several Indian and international universities and is actively involved with evidence based work in Endocrinology including Obesity, Diabetes, Growth, Thyroid, and Osteoporosis.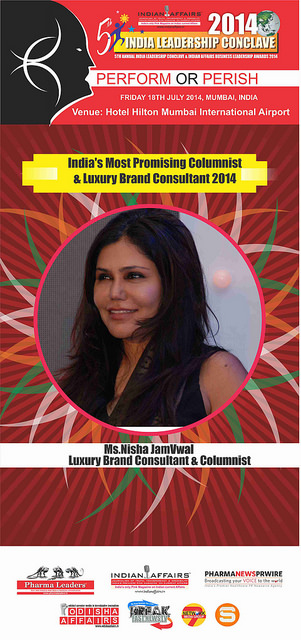 NISHA JAMWAL DESIGN: The company provides comprehensive Art Consultancy, Interior Architectural services for Commercial and Residential projects& Film Set Design; Signage; Graphics; Art Consultancy for projects like Jaipore Airport, Restaurant, Executive lounge, Bar, A Lounge Restaurant and Bar : Juhu Consultant, Chitale & Son on ICICI , Dyna Lamps, Kwatra Offices, Chambers of music composer Bhagyaraj; Consultant Advisor honorary for INS Delhi (warship of the Indian Navy);Interior Design & Execution Ms Lisa Ray ;Ms Zeenat Aman (film personality) ; Arora Residence at Pedder Road ; Ms. Kalra (Editor Elle Magazine); Mr Premnath ;Member of Govt Singapore Mr Shabbir Hasanwallah Ms Roopa Patel , British Council Specialties Interior Design and Lifestyle along with Fashion- couture and pret and Art. Brand 'Nisha JamVwal' that initially made its mark in interior architecture and lifestyle, diversified into fashion and has held fifteen shows in four cities. Her Architectural Design firm provides art consultancy and interior architectural services for commercial and residential projects, she has written books and articles in prestigious publications, and has designed the Jaipore Airport Lounge.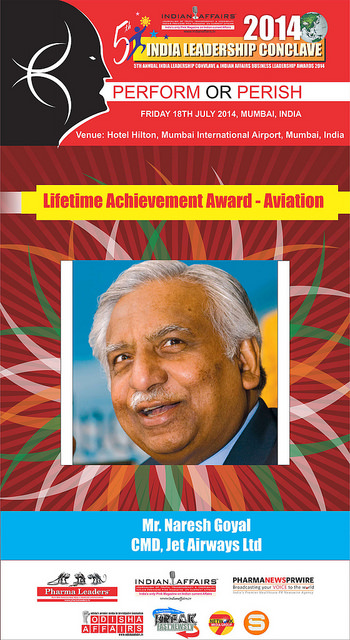 Naresh Goyal (born 29 July 1950) is an Indian businessman and founder Chairman of Jet Airways. He started operating Jet Airways in 1993. Following the 2005 IPO of Jet Airways, Forbes magazine declared him the sixteenth richest person in India with a net worth of $1.9 billion. [2] He has over twenty-six years of experience in the civil aviation sector. Under his leadership, Jet Airways has emerged as one of India's most preferred airlines.[citation needed] Following the bad times in the airline industry in the second half of 2008, Naresh Goyal joined hands with his prominent rival Vijay Mallya's Kingfisher Airlines in October 2008, entering into an agreement that would rationalise the operation of routes, sharing of codes, prices and availability, fuel management and ground handling, thus making Airindia not only the largest market player, but also enabling both the airlines that would otherwise head for a collapse to economize and save. The Competition Commission of India has launched an inquiry if this arrangement is anti-competitive.Naresh Goyal was born in Sangrur - Punjab, northern India in 1949 in the house of a jewellery dealer situated at Nabha Gate.He studied up to sixth standard at Govt. Raj High School for Boys. When he was eleven years old, his family went through an economic crisis and his house was auctioned. He then lived with his mother's uncle. When he was eighteen he took a teaching degree. He started the career as cashier. He worked for his maternal uncle Seth Charan Das Ram Lal's who was operating a travel agency then.[3] After graduating in commerce in 1967, Naresh Goyal joined the travel business as a general sales agent for Lebanese International.In May 1993, Goyal founded Jet Airways (Private) Limited[4] with the objective of providing sales and marketing representation to foreign airlines in India.[citation needed] Goyal served on the Board of the International Air Transport Association (IATA) from 2004–2006.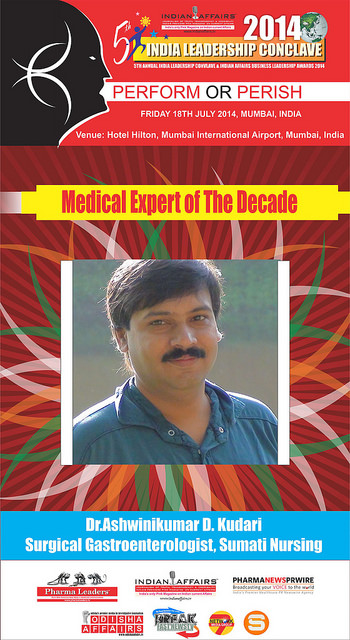 MBBS , MS - General Surgery , M.Ch - Surgical Gastroenterology/G.I. Surgery Surgeon Dr Ashwinikumar Kudari is an Expert Gastroenterologist who visits to Sumathi nursing home on Daily basis. He also consults in MSR Memorial Hospital, Mathikere. He has profound knowledge on Gastroenterology and his areas of Interest includes Gastro specific problems.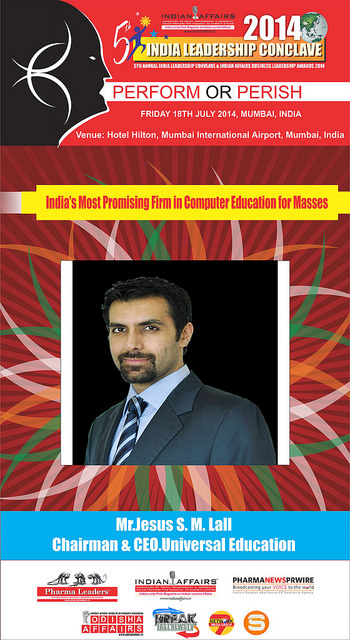 At Universal Schools and Colleges, we welcome students from all over Mumbai, Thane & Nashik who demand the best available education. Since our founding in 1968, Universal has challenged the accepted norms of education. Today Universal Institutions are some of foremost schools and colleges in Mumbai, with strong links to academia, industry and the society. They have top rate study, social and sporting facilities. And as good as we are, we're poised to get even better. An extraordinary experience awaits you at Universal Schools and Colleges. To find out more first hand I would like to invite you to visit us on campus, where you will receive a warm welcome, or visit our website @ universal.edu.in" - Jesus S. M. Lall, Chairman & CEO, Universal Education,Universal Education was founded by the guiding spirit of our patriarch, Shri Sudhir Madhavji Lall. Mr. Lall laid the foundations of UE in 1968 and built it from scratch to Mumbai's largest & most reputed private educational organisation. He was a visionary of great ideals, but retained a lifestyle of simplicity. He conducted himself with total dignity and impartiality. His values, vision and goals were simple – to lead by love, by trust &by example. During his professional career, Mr. Lall championed many causes, but none so fiercely as educational reforms. Unfortunately, he left for heavenly abode on the 1st Sep 2002. His son, our CEO, Shri Jesus S. M. Lall has, since then, strengthened UE's position, transformed it and ensured its growth in keeping with his dreams.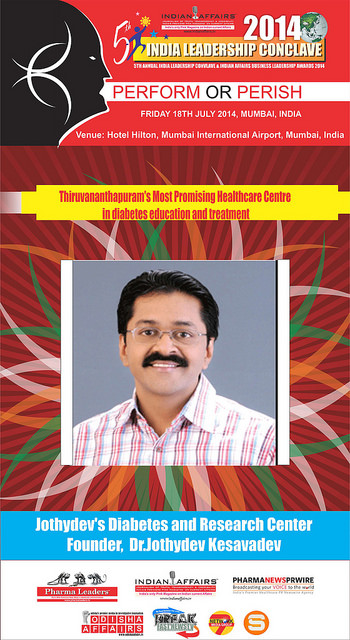 Jothydev's Diabetes And Research Centre is named after Jothydev Kesavadev the one and only son of Late P.Kesavadev and Smt.Seethalekshmy Dev. Dr.Jothydev, is the CEO and Director of Jothydev's Diabetes And Research Centre and the hospital is run by Living Longer Life Care Pvt Ltd. Dr. Jothydev completed his M.B.B.S and MD in Internal Medicine from Govt. Medical College, Trivandrum. While he was doing his MD in Internal medicine, he got selected by the State Public Service Commission and joined as Lecturer in Internal Medicine in the same hospital. He continued as the Assistant Professor of Medicine and was very popular among the students for his bedside teaching and lecture classes. In 1997 he started private practice in a tiny consultation room at Lekshmy Nilayam, his house situated at Mudavanmugal, Trivandrum .While working in Trivandrum Medical College he was interviewed by a team of Doctors and Civic Leaders and was selected for setting up a Diabetes Centre in Trivandrum in association with the world famous Mayo Clinic, USA. He went for fellowship training at Mayo Clinic along with his wife Sunitha Jothydev and son Krishnadev Jothydev. In 2001 itself he had more than 3000 diabetic patients on tele- medicine follow up, and he was assisted by Miss. Jayasree Lally, who joined his clinical practice in the year 1997. Dr.Jothydev after completion of his training in USA, decided to come back to India, but unfortunately could not continue with the Government due to various reasons; the details of which are available else where. It was at this juncture that a few of his friends, well wishers and patients decided to form a Private Limited Company and a Diabetic Clinic under the ownership of the company. Soon the foundation stone was laid and the super structure was completed and the clinic started functioning from 07-04-2006. The practice at home was wound up and patients started coming to the clinic. On May 10th 2008 Padmasree Mohanlal laid the foundation stone for the second phase of the Hospital building. The new block will also house our research unit, which is constantly aiming at providing world class preventive diabetic care. Now the hospital is recognized as an internationally approved insulin pump centre and it is also a centre of excellence utilizing tele-medicine for long term diabetes care helping patients achieve and sustain A1c values below 6.5 %. Dr. Jothydev's wife Mrs. Sunitha Jothydev is presently Chief Administrative Officer of the Diabetes Centre. We have a strong, sincere and dedicated diabetic team.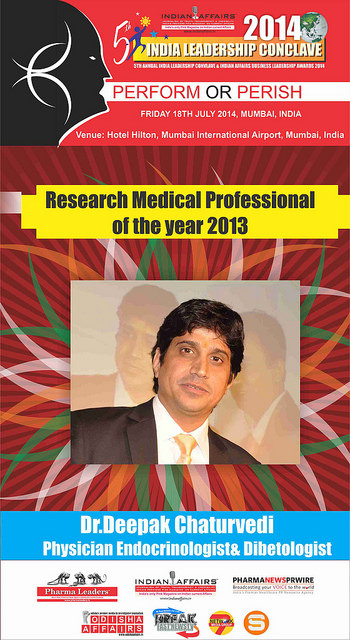 Physician Endocrinologist, Diabetologist, Obesity Consultant and Antiaging Specialist. "Post Bariatric Medical and Life Style Consultant" (Special Interest in Hormones related disorders, Aging and Obesity management) Dr. Deepak Anjana Chaturvedi is Physician Endocrinologist, Diabetologist, Antiaging Specialist and Bariatrician based in Mumbai with clientele from all over the globe. He is the co-founder and Medical director of "Antiaging Medicine And Research (AMAR)" AND "INDOMEDICON"; the Society and Conference forum associated with the awareness of Age Management and Hormone Corrective Therapies. He is a leading Antiaging Physician in India. Dr.Deepak Anjana Chaturvedi is part of the advisory board of various clinics national as well as international. His area of expertise include management of various endocrinologic conditions such as Obesity , Diabetes , Thyroid dysfunction , PCOD , Menopause , Andropause , Sexual Dysfunction (in men and women) , Metabolic and Immunologic conditions and other hormonal imbalances and AGING. SEMINARS / CONFERENCES / WORKSHOPS CONDUCTED HIV awareness program/Lectures in various Medical and Non Medical colleges and Community. The "Art and Science Of Anti-aging Medicine" (in association with Indian Medical Association, Mumbai) at IMA House, Haji Ali, Mumbai in February - 2008 Workshop on "Practice of Anti-aging Medicine" at Hotel Taj Lands End , Mumbai in May - 2008 INDOMEDICON the first ever "Conference cum Certification Course in Anti- Aging Medicine" (in association with Anti-aging Medicine And Research (AMAR) - India and World Society of Anti-aging Medicine (WOSAAM)) at Hotel Le Meridian, Mumbai in December - 2009. INDOMEDICON: 2010 at Hotel Imperial Palace - Mumbai, India in June 2010 INDOMEDICON: 2011 at Hotel Tivoli Garden Resorts- New Delhi in May 2011 INDOMEDICON: 2013 - 4th Conference for Antiaging, Lifespan and Integrative Medicine to be held at Hilton Hotel and Resorts, Mumbai on 23rd and 24th of February 2013. INDOMEDICON: 2014 - 5th Antiaging Medicine And Research Conference to be held at Hotel Holiday Inn, Andheri (E), Mumbai on 14th, 15th and 16th February, 2014. Conducting regular workshops in Antiaging Medicine for the physicians under "Antiaging Medicine And Research (AMAR)" since year 2008. Given lectures at various other Antiaging Conferences/CMEs/Workshops. Currently delivered a lecture on " Antiaging Medicine: A novel approach" in B.J.Medical College, Pune, India, which is one of the leading tertiary care centre in India. Introduced Antiaging Medicine Concept in the minds of the Medical fraternity at Government Medical College, Solapur, India recently through an interactive lecture session on Antiaging..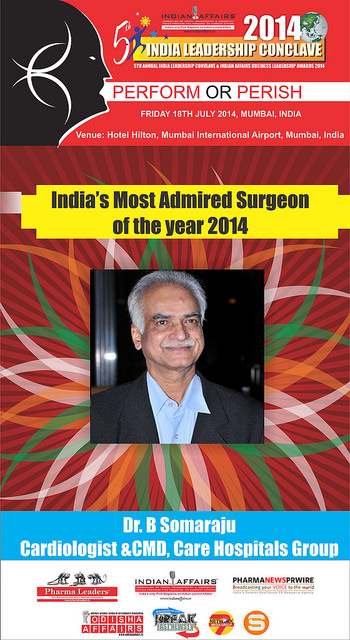 Dr. B. Somaraju, CARE Hospitals Dr. B. Somaraju - Full Profile Date of Birth : 25 September, 1948. ACADEMIC QUALIFICATIONS : M.B.B.S. : April, 1970 Guntur Medical College, A.P. M.D. : June, 1974 Guntur Medical College, A.P. D.M. : December, 1977 PGIMER, Chandigarh. Ph.D. (Hon.Causa) : February, 1997 JNTU, Hyderabad. Post-MD Experience : Registrar in Endocrinology andInternal Medicine, PGIMER, and Chandigarh. January, 1975 to June, 1975. Registrar in Cardiology, PGIMER, Chandigarh. June 1975 to June, 1978. Faculty Appointments : Cardiologist, Division of Cardiology, CARE Hospital – The Institute of Medical Sciences. Chairman – Quality Care India Ltd. Examinership and Lectures Examiner for DM cardiology at Kasturba Medical College, Manipal Examiner for DM cardiology at All India Institute of Medical Sciences, New Delhi. Professor Sivarajan endowment lecture at Cardiological Society of India, Madras (1996) Hullakki Memorial oration at India Medical Association, Tenali (1995) CME lecture at State IMA conference at Rajahmundry (1995) Professor Satyanarayana Murthy memorial oration at Association of Physicians of India, Guntur (1995) Annual oration of Association of Physicians of India at Guntur (1990) CME lecture on current status of Mitral Valvuloplasty at Annual meeting of Cardiological Society of India, New Delhi (1991). Invited Lecture on " Comparison of Closed mitral commissurotomy with balloon dilation in mitral stenosis" at Annual Meeting of American College of Chest Physicians, San Fransisco, USA, (1996). Membership of Professional Bodies: Member, Cardiological Society of India. Member, Association of Physicians of India. Fellow of College of Chest Physicians. Other Important Positions: Chief Co-ordinator PTCA Registry since 1997. Executive Member, PTCA Registry, India. In-Charge Central Zone. Member, Society for Biomedical Technology (SBMT) and Co-Chairman, Programme Management Board. Former Member Editorial Advisory for Interventional Cardiology, Indian Heart Journal. Former Editorial Referee, Indian Heart Journal. Research Projects Randomized Study of Balloon Mitral Valvuloplasty Vs Surgical Closed Mitral Commissurotomy – Immediate and long-term results. Randomized Study of Balloon Mitral Valvuloplasty Vs Surgical Open Mitral Valvotomy – Immediate and long-term results. (Both the above trials are conducted in collaboration with Dept. of Cardiology, Wayne State University, Detroit, MI, U.S.A.) Dietary correlation's with lipid profiles in patients with and without Coronary Artery Disease in Indian Population. Phase-III Clinical Investigation of E.B.Sideri's Button Device for Closure of Arterial Septal Defects and patent ductus arteriosus. (In collaboration with Prof.E.B.Sideri's, University of Athens, Greece and University of Texas Tech.U.S.A.) Indigenous development of Cardiovascular Catheters i.e.Diagnostic Catheters, Coronary Angioplasty Balloon , Valvuloplasty Balloon Catheters in Collaboration with Defence Materials & Stores Research & Development Establishment (DMSRDE), Kanpur. Indigenous development of external and implantable pacemakers in collaboration with Research Centre Imarat (RCI), Hyderabad. Development of indigenous Coronary Stent in association with Defence Metallurgical Research Laboratory Centre (DMRL), Hyderabad. Development of PC based Cardiac Stress Test System in association with Defence Bio-Engineering & Electromedical Laboratory (DEBEL), Bangalore. On-Going Research Projects: Development of over-the-wire balloon catheter for coronary and other vascular application. Development of Tubular Stent Development of Intracoronary Brachytherapy Development of various Cardiac diagnostic and interventional disposables. Application of Remote Diagnostics as Health care delivery. Molecular Pathology of Cardiomyopathy Interventional Demonstration Courses Conducted : Application of Gianturco – Roubin intracoronary Stents for acute occlusions during PTCA.(Gary S Roubin, USA; Larry Dean, USA'B.S.Raju, December 1990). Use of Percutaneous Cardiopulmonary support system (Fayaz Shawl, USA; B. S. Raju, Nov.1991). Percutaneous Balloon Mitral Valvuloplasty – Inoue technique (Hung, Taiwan; B.S.Raju, February, 1992.) Application of Medtronic-Wiktor Intracoronary Stents for Acute Coronary dissections during PTCA (Paul Kramer, USA; B.S.Raju, December 1992) Bard PTCA teaching courses (Ashwin Mehta, Samuel Mathews, Ashok Seth U.Kaul, D.S.Gambhir, K.K.Sethi, B.S.Raju, Bombay, Madras, Hyderabad, Delhi, 1992 & 1993) Percutaneous Closure of ASD and PDA with Button Device.(E.B.Sideri's USA; B.S.Raju, May 1993) Other Contributions : Dr.B.Soma Raju and his team set up the Department of Cardiology at the charitable Sri Sathya Sai Institute of Higher Medical Sciences, Puttaparthi and provided Free Professional services from 1991 to 1994. He conduted Free Cardiology camps at the following locations: Dr. B. Somaraju, CARE Hospitals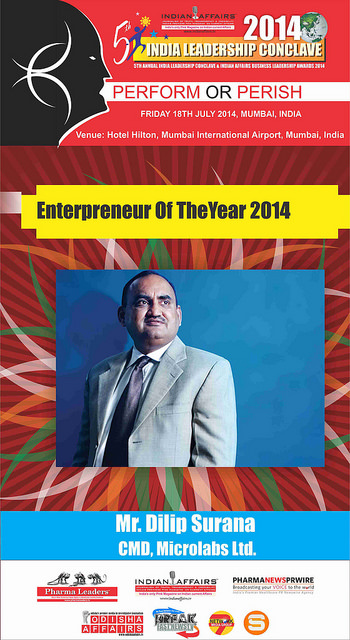 Micro Labs Limited is a multi-faceted healthcare organization with a proficient marketing team, state-of-the-art manufacturing facilities and R&D centres that are at par with international standards. All this, robustly backed by a strong distribution network and path-breaking research work has placed us amongst India's fast growing transnational healthcare organizations. . Ranking 10th among prescriptions and 20th in sales, Micro's brand portfolio includes some of the topmost brands in various specialties like Cardiology, Diabetology, Anti-infectives, Ophthalmology, Pain, etc. Amidst our proud achievers is Dolo, an award-winning brand highly prescribed for fever management. The company is also at the forefront in social contribution, striving to be a model corporate citizen in terms of Environmental Protection & Social Initiatives with significant contributions in the areas of education and health. Micro Labs is poised to achieve unparalleled status in the global pharmaceutical industry. Backed by a profound and resolute vision, we now have our eyes set on attaining the $1 billion mark by 2015.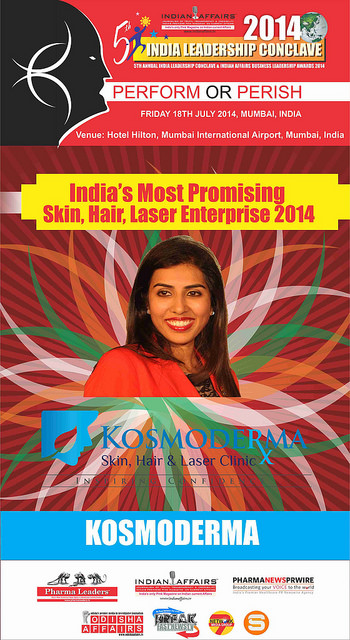 Dr Chytra V Anand is an internationally renowned Cosmetic Dermatologist. She is the Founder & CEO of the well-known chain of Kosmoderma Clinics. Her skill in dealing with all skin types is well known and her impressive client list comprises of prominent personalities from various walks of life – Fashion, Films, Industrialists and Socialites. After completing her MBBS in JSS Medical College, Mysore, Dr Chytra V Anand went to London to study for her higher education. She is a graduate of the prestigious Guys & St Thomas' Hospital in London, where she earned her Masters in Dermatology.She completed her fellowship in Cosmetic Dermatology from Miller School of Medicine, University of Miami, USA. She has been on the expert panel for her talks on Cosmetic Dermatology topics at various conferences and meetings nationally and internationally. She is the youngest Cosmetic dermatologist on the international lecture platform. She has been a part of Cosmetic Dermatology Programmes on Channel 4, Discovery Health, BBC and other prestigious TV Channels in London. She has the distinction of having had her own monthly TV talk show on dermatology on Vectone Asian channel. In Jan 2006, Dr Anand moved back to India to pursue her dream of opening a chain of world standard skin and laser clinic in India and started a specialist Cosmetic Dermatology clinic and Bangalore's first MediSpa – Kosmoderma. She has 5 Clinics and 1 MediSpa. Her clientele comprises of people from all walks of life including stars from the Bollywood, Sandalwood & Tollywood fraternity, fashion models and prominent corporate personalities. She is fiercely protective of her patients and their privacy. She is an expert in Laser Devices, Injectables & Cosmetic Therapies and is constantly invited as a speaker on expert panels at various conferences, nationally & internationally. She also writes articles regularly for various mainstream publications like Femina, DNA, TOI, Deccan Chronicle, Stay Fit, Marie Claire, Prevention etc and has appeared on television channels as an expert speaker for various mainstream channels in India. She is regularly featured in the local television channels for her expertise on Cosmetic conditions for skin & hair. In 2007, Dr Anand founded the International Academy of Aesthetic Medicine to train doctors in the field of Cosmetic Dermatology as she realized that doctors did not have enough exposure to Cosmetic Dermatology in regular practice and required additional specialized training in India. Under her guidance the academy conducts intensive hands on training courses for doctors from around the globe. She has trained over 800 doctors in Aesthetic Medicine procedures and is credited with pioneering Aesthetic Medicine & Cosmetic Dermatology training in India. The Academy has attracted students from India, UK, Europe, UAE, Africa, SE Asia and is considered a top-notch training facility. She is credited with introducing fractional laser for acne scar rejuvenation & non – surgical thread lift procedures to India. She has to her credit to having performed the highest number of Botox and Filler injections in South India. Dr Anand is popularly known as Dr Fix It by her patients who travel from other cities and countries to seek her expertise.She is sought after for her advanced and developed sense of aesthetics by patients and other doctors. Her patients and students swear by her brilliance and techniques. She is considered to be the leading cosmetic dermatologist and opinion former in India today.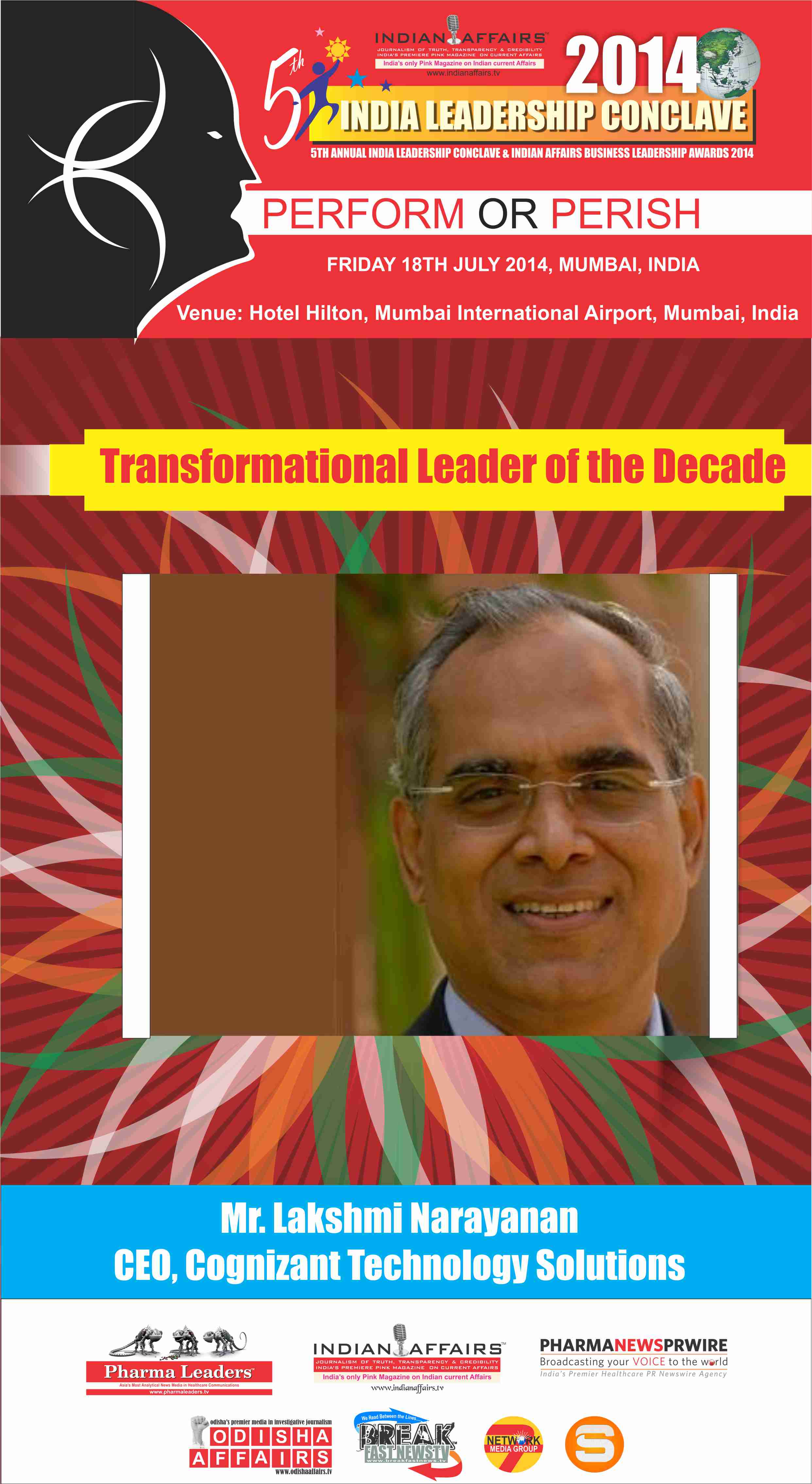 Lakshmi Narayanan, Vice Chairman Mr. Narayanan is a technology industry professional, with over 30 years of experience in Europe, India, and the United States. His leadership experience includes corporate governance, customer relationship management, and organization strategy. As a founding member of Cognizant, he has been responsible for providing leadership for the company's high-touch customer relationship and delivery excellence model. In his role as the Vice Chairman of Cognizant, Mr. Narayanan guides strategic programs around customer advocacy, education, training, and leadership development. Mr. Narayanan is the past chairman of NASSCOM and was a member of the Board of U.S. India Business Council. He has received awards and recognition from the industry, media, and academia. He is an alumnus of Indian Institute of Science and has pursuits in inclusive growth, education, and non-profits through Cognizant Foundation and other institutions.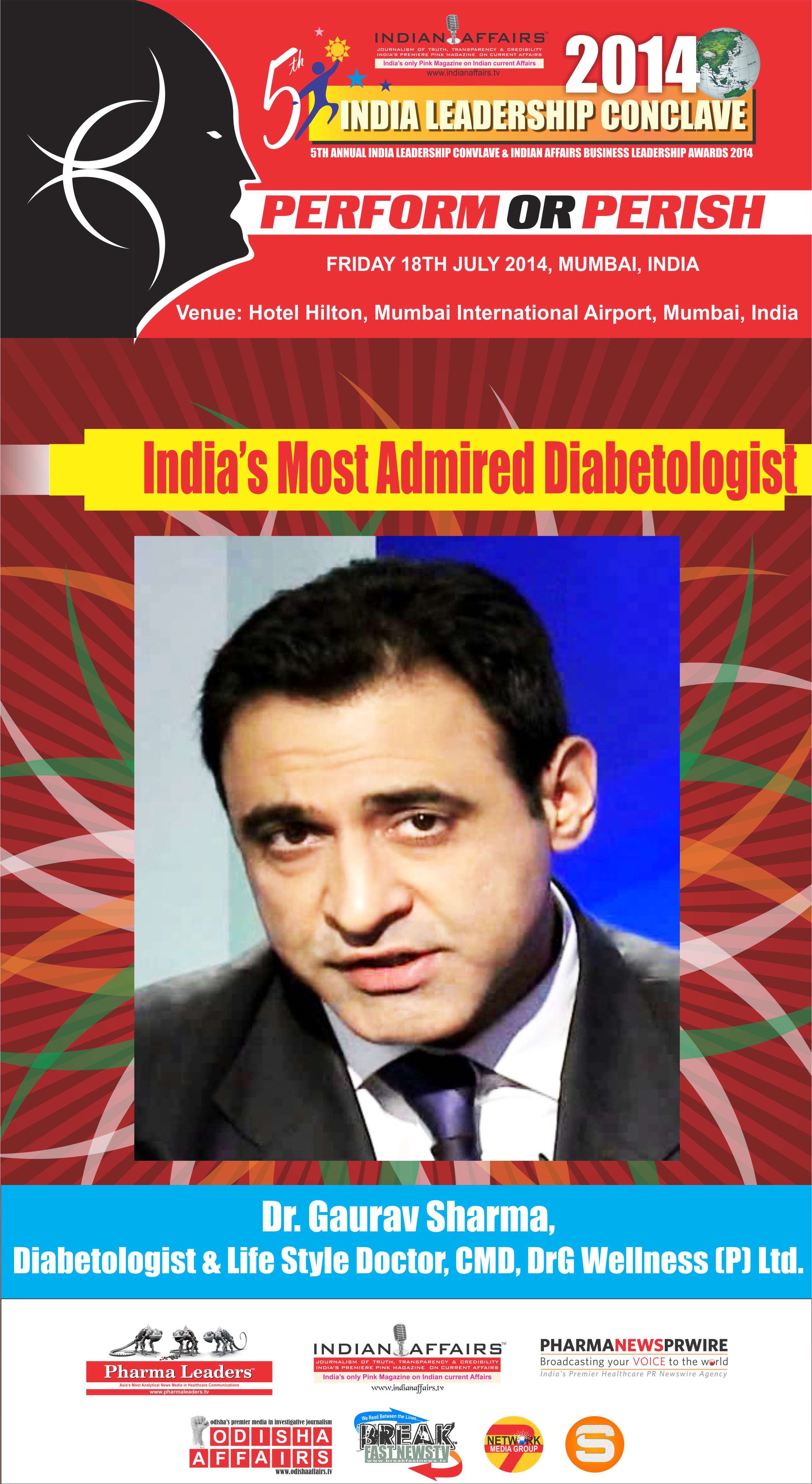 Shiv Nadar (born 18 July 1945) is an Indian industrialist and philanthropist. He is the founder and chairman of HCL and the Shiv Nadar Foundation. As of 2014, his personal wealth is estimated at $11.1 billion. Nadar founded HCL in the mid-1970s and transformed the IT hardware company into an IT Enterprise over the next three decades by constantly reinventing his company's focus. In 2008, Nadar was awarded Padma Bhushan for his efforts in the IT industry. Nadar, nicknamed by friends as Magus (Old Persian for Wizard), since mid-1990s has focused his efforts in developing the educational system of India through the Shiv Nadar Foundation.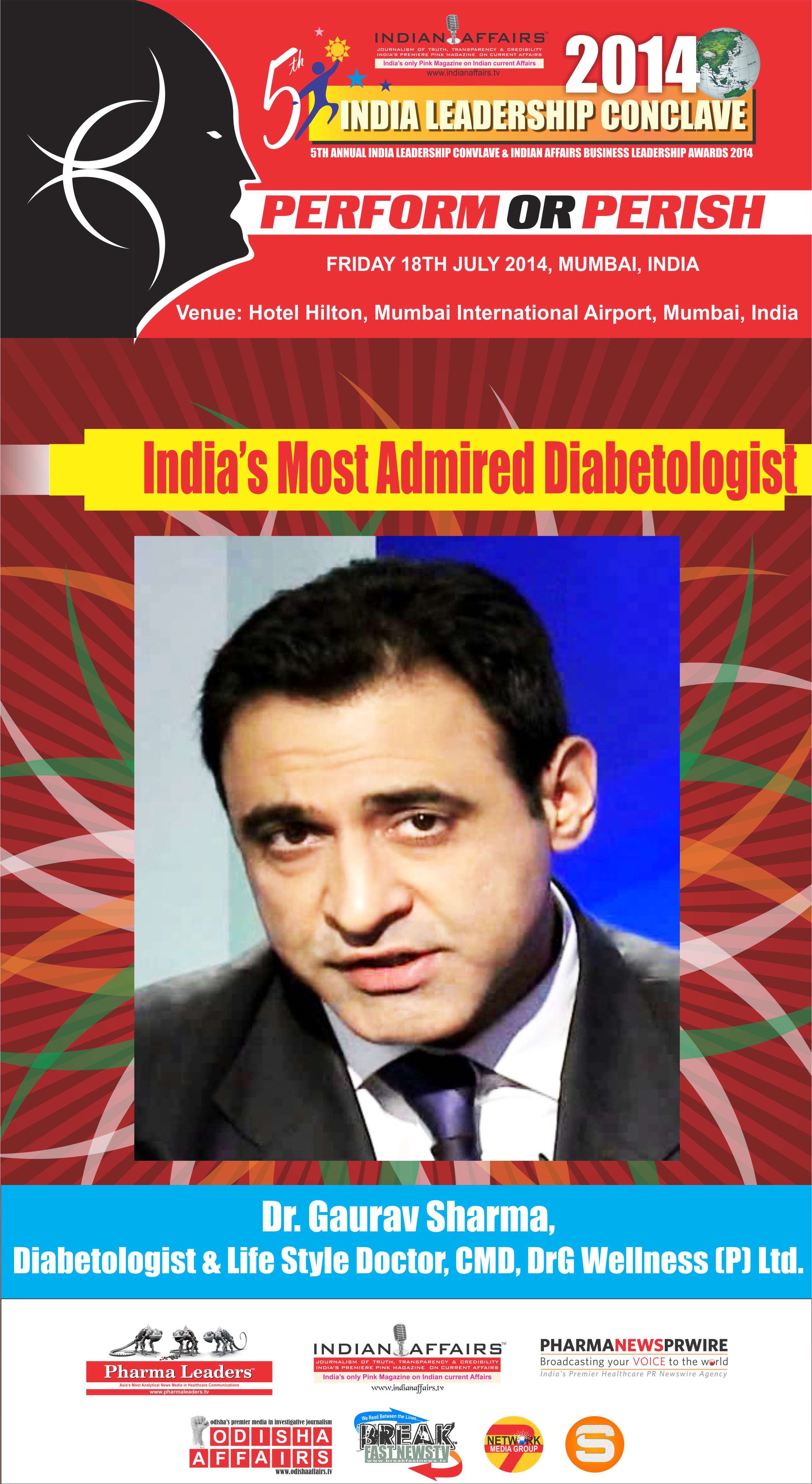 The purpose of our company is to help people through LifeStyle changes, and they reciprocate by giving us money and blessings. Following our beliefs we went to create the largest wellness company in the country. Worldwide presence is the next goal after that.This is a company which provides wellness services to the people who need lifestyle modification. The company is starting a range of food supplements, which will help people to get to their goals. The first product and service is related to Diabetes and the results have been fantastic, people are not only getting off pills but getting off insulin on a consistent basis.This is a company which provides wellness services to the people who need lifestyle modification. The company is starting a range of food supplements, which will help people to get to their goals. The first product and service is related to Diabetes and the results have been fantastic, people are not only getting off pills but getting off insulin on a consistent basis.One of the finest fitness club in Delhi, located in the heart of 'Upmarket' Vasant Vihar area, provides an exceptional exercise experience, refreshing hospitality and great service to match the excellent training.One of the first holistic wellness centers in the country, providing solutions to manage lifestyle diseases and helping people achieve their goals. Diabetes, Hypertension, Heart Disease, Osteoarthritis and Hypothyroidism to name a few.