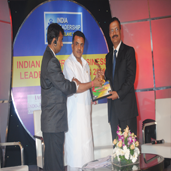 MP Sanjay Nirupam at ILC Power Brand Plattform
ILC Awards Honours An Individual /Corporate Who Is Seen As A Trusted Guide, Influential Mentor And A Strategic Executive, Instrumental In The Successful Turnaround Of Her Company. She Must Have Played A Pivotal Role In The Company's Success, Adding To A Career Of Extraordinary Performance And Exceptional Results. These Awards Recognise An Exceptional Leader Who Has Played An Important Role In Her Specific Sector Development, On Various Levels. The Individual Should Have Demonstrated Initiative While Serving Consumer Needs, Implemented Innovative Strategies In Order To Improve Performance, And Contributed To The Growth Of The Community And Environment, As Well As The Region.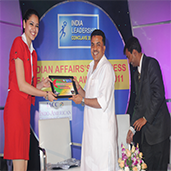 Kingfisher Crew at ILC Power Brand Plattform
India Leadership Conclave & Indian Affairs Business Leadership Awards organized by Network7 Media Group's Indian Affairs is Asia's most eagerly awaited leadership event where the platform has established a credible platform of serious discussion where Brand India's most illustrious Leaders & icons assemble to discuss the roadmap for India's growth trajectory. The last Four Annual Affairs at the India Leadership Conclave Platform, we have witnessed some of the biggest think-tanks of the contemporary leaders in society from social to political & from business to cultural has addressed, deliberated & opened up the new mantras of developments.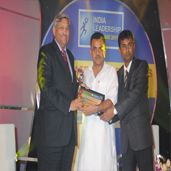 Rajeev Kapoor, Fiat MD at ILC Power Brand
Post the watershed & historic elections in India where India gave a clear & decisive mandate to the BJP led NDA formation since 1984, the political & economic leadership in India is set to go for a big change as the new government at center is expected to roll out plethora of opportunities & no nonsense approach in policy reforms. While India is awaiting to reinvent itself as a major player in the world, Indian Affairs, the flagship media outfit of Network 7 Media Group, Asia's most analytical news media is set to debate on a most relevant theme "Progress or Perish" at the historic 5th Annual India Leadership Conclave & Indian Affairs Business Leadership Awards 2014.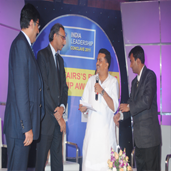 Anand Desai, Chief DSK Legal at ILC Power Brand
. "At a time when India is experiencing an unexpected political, special & cultural challenges post-independence, 67 years has passed, yet india at the strike of midnight on August 14, 1947 India began its experiment of democracy against all odds, the present regime in political & economic leadership is on test as india is beginning to experiment its model, structure & fabrics" says Satya Brahma, Chairman & Editor-In-Chief of Network 7 Media Group who also chairs the organizing committee of the 5th Annual India Leadership Conclave & Indian Affairs Business Leadership Awards 2014. The Nation today stands divided on which way the political leadership is going & where there are far more bigger issues to address like FDI, Economic Reforms, Poverty, Unemployment, Basic Healthcare, Inflation, Ironically politically parties are busy scoring on trivial & personal animosity in the run up to 2014 General Election, Irrespective of which formation india will choose, the message is loud & clear, that the incoming leadership at the entre will have to find a comprehensive policy reforms to boost staggering indian economy, therefore the theme at the conclave is aptly titled as "Progress or Perish" , Said Satya Brahma while announcing the 5th edition of India Leadership Conclave.