The Business Leadership Awards were presented to the top performers & shining stars of the Indian Healthcare Industry. Other awardees were Dr Trehan, Dr Laud (Global Indian of the Year 2013) and Dr Ravindranath (Healthcare Visionary of the Decade). Accepting the award, Dr Mukesh Batra, Padma Shri Recipient, Founder and Chairman of Dr Batra's group companies expressed, "Effective leadership is necessary for the growth of a medical system, an organization or a country. I thank the organizers for bestowing on me Transformational Leader of the Decade Award to honor my leadership contribution towards the growth and acceptance of Homeopathy. This award accords due and deserving recognition to homeopathy - the world's second-largest medical system, according to World Health Organisation. Homeopathy has been growing 25% every year for the last five years. In fact, it is fast becoming the first choice of treatment for an increasing number of people in many parts of the world". Dr Batra also delivered the Key Note address on 'Challenges of Globalizing homeopathic Medicines: a Dr Batra's Case Study' at the awards ceremony, which was attended by more than 200 industry stalwarts from diverse sectors across the country. Beginning as a modest clinic in Mumbai in 1982, Dr Batra's Positive Health Clinic is today the world's largest homeopathic healthcare corporate with 127 clinics spread across 65 cities in India, Dubai and UK. Dr Batra has created ample awareness and popularized the goodness of homeopathy via his writings in newspapers, magazines and books, as well as appearances on television. A profound proponent in the joy of giving, Dr Batra set up the Positive Health Foundation, which provides free homeopathic treatment to over 20,000 patients, through free clinics across 65 cities in India. The Foundation also extends homeopathic treatment and care to animal welfare shelters, orphanages and old age homes. Dr Batra also introduced the Positive Health Annual Awards, seven years ago, sponsored by Bajaj Discover, to recognise and honour specially-abled individuals, who have overcome disease and disability to lead useful lives.
Shailendra Singh receives the prestigious 'Brand Icon of the Year 2013' & 'Rising Brand Campaign of the Year 2013' Awards at the 4th Indian Affairs Business Leadership Awards 2013. Shailendra Singh, Joint Managing Director, Percept Limited, received 2 esteemed awards viz. 'Brand Icon of the Year 2013' and 'Rising Brand Campaign of the Year 2013' at the 4th edition of the India Leadership Conclave 2013. The illustrious 4th Annual India Leadership Conclave and Indian Affairs Business Leadership Awards 2013 ceremony was held on Friday, 21 June 2013 at The Leela, Mumbai. More than 200 business tycoons, media magnates, social reformers and policy makers attended the 4th edition of this prestigious conclave. The India Leadership Conclave & Indian Affairs Business Leadership Awards 2013 organized by Network7 Media Group's Indian Affairs Magazine, in association with the Ministry of Corporate Affairs, Government of India, is one of India's most prestigious award forums. The 36 award categories spanned all the major industries and sectors including Automobiles, Aviation, Banking, Consumer Durables, Consumer Products, Infrastructure, IT, Pharma, Healthcare, Retail, Telecom, Social Service and Indian Cinema . Shailendra Singh, Joint Managing Director, Percept Limited, received 2 eminent awards viz. 'Brand Icon of the Year 2013' and 'Rising Brand Campaign of the Year 2013'. The 'Brand Icon of the Year 2013' award recognized and honored Shailendra Singh's innovations in the Branding & Communications domain and his vast contribution to the Entertainment, Media and Communications Industry. His unparalleled vision in creating India's greatest advertising campaigns, producing National Award winning cinema and incepting iconic global SuperBrands such as 'Sunburn' have helped put India on the global dance destination map and won him many laurels on the international & India stage. The 'Rising Brand Campaign of the Year 2013' award was conferred on Shailendra Singh for his efforts at creating the unique 'MADE IN INDIA' project, a United Welfare Trust initiative, with an objective to celebrating, promoting and building Brand India. This original and positive non-profit movement offers the ultimate platform that unites all Indians in a "Celebration of India" with a focus on the positive. The 360-degree movement encompassing online, on ground and media activities kick-started in 2012 with an objective to create a sense of pride in the hearts of a billion Indians. Said Shailendra Singh, "This is a great honor and I am humbled to have received such illustrious awards from the Industry. I am really proud to see emergent forums such as the India Leadership Conclave highlight India specific issues and drive ownership and pride for the country. India has arrived and we, as proud Indians, have to take complete ownership of our nation and help promote 'Brand India' to the world. The time has come to celebrate the phenomenal rise and success of India and showcase the pride that we have for our nation. The 'MADE IN INDIA' campaign was my first step in this direction and it's a great feeling to know that it's made such an impact in such a short span of time. This award is a testimony to my beliefs and conviction."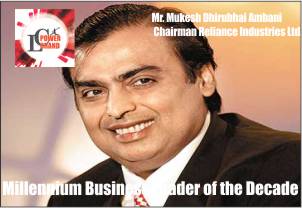 Millennium Business Leader of the Decade Mr. Mukesh Dhirubhai Ambani, MANAGING DIRECTOR, Reliance Industries Ltd. Worth $43 billion in 2008 when he was the world's fifth richest person, Mukesh Ambani has seen a steep decline in his fortune since then, a $2.9 billion drop in the past year alone. Regardless he remains India's richest person and is still bullish; says he plans to invest $25 billion in his businesses over the next 2 years. Amid falling output from his Reliance Industries' KG-D6 offshore oilfield, the government finally approved the doubling of the nation's gas prices, effective April. This decision, which his oil giant and its partner BP had long lobbied for, once again sparked allegations it had deliberately suppressed output and hoarded gas. The company has denied wrongdoing but faces a criminal investigation instigated by anti-graft crusader Arvind Kejriwal, founder of the Common Man's Party who recently alleged that Ambani is "running the government". Ambani is contemplating suing him for defamation. Meantime, his telecom arm Reliance Jio Infocomm which is preparing to roll out 4G services with help from brother Anil's company, snatched additional telecom spectrum for $1.8 billion in a February auction. A vegetarian and animal lover, Ambani recently banned his Reliance Retail chain from selling non-vegetarian items. His older son Akash, an undergrad from Brown University, has started working at Reliance Jio.